Family is Unconditional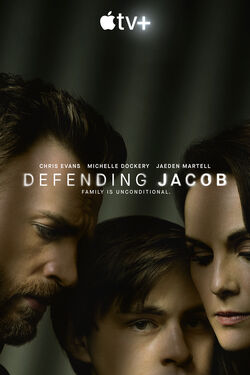 Defending Jacob is a gripping, character-driven thriller based on the 2012 New York Times best-selling novel of the same name.
The limited drama series unfolds around a shocking crime that rocks a small Massachusetts town and one family in particular, forcing an assistant district attorney to choose between his sworn duty to uphold justice and his unconditional love for his son.
Defending Jacob is created, written and executive produced by Mark Bomback. All eight episodes of the series are directed by Academy Award-nominee Morten Tyldum, who also serves as executive producer. Chris Evans stars and executive produces, alongside Rosalie Swedlin and Adam Shulman who executive produce for Anonymous Content.
Defending Jacob is available to view now on Apple TV+.
About Us
We're a community run and maintained by people just like you! Created by fans, for fans, the Defending Jacob Wiki is dedicated to creating a comprehensive and informative resource about Defending Jacob on Apple TV+.
We also have a place for getting to know each other and to talk about Defending Jacob in our Discussions. Whether you are here to start editing or to chat with fellow users, you are welcome to sign up for an account!